To our vast and incredible literary community,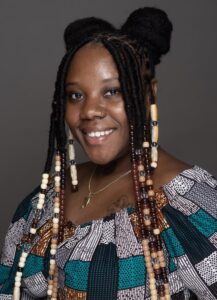 WE HAVE GROWN!
Join us in welcoming our NEW ADMINISTRATIVE ASSISTANT BRIANNE MOBLEY to the CityLit team. After years of working as a lone soldier, our executive director Carla Du Pree, gets to share the space with this remarkable, creative, entrepreneurial spirit-supreme Brianne (Bri)
Mobley, and we couldn't be more grateful.
She comes with a wealth of experience, ingenuity, and creativity. Allow us to introduce her to you:
BRIANNE MOBLEY is a highly creative community activator, curator, and social change-driven professional.
For over a decade, Brianne has worked in administration, community-roles and the arts. Her work is rooted in equity for Black people, artists and creatives. She has had a variety of career experiences in Baltimore and beyond that have contributed to her adaptability and innovation as an entrepreneur. In her previous experience as a teaching assistant at Mama Glow, she worked directly with the founder and mentored and supported hundreds of doula trainees. In 2019, Brianne founded Birth(Rite) Wellness, a doula and wellness collective in Baltimore, and in 2021, she founded BLK ASS FLEA MKT, a curated event studio and marketplace that empowers Black creatives. Mobley is an experienced community professional and advocate.
Brianne majored in Broadcast and Integrated Media at Morgan State University's School of Communications. Some of Brianne's related skills include many years of administration, event planning and curation, content creation, social media management, and customer service. When Brianne is not chipping away at community entrepreneurship, Brianne can be found tackling at-home science projects with her daughter Kennedy or taking it back to her childhood playing Double Dutch!
More from our new addition:
Why I Chose CityLit
I chose CityLit because of its prioritization of diversity, community, and advocacy for the arts. I am looking forward to creating processes of ease for CityLit and given the opportunity, contributing to the present innovation and growth of the company through event curation (and
more). I truly believe there's overlap and alignment within our communities, and I'm hopeful for integration!
Playful Fact
I'll hit the movies in a minute to see the newest animated films, not because I have a 7 year old, but because it's one of my favorite genres! I'm a big kid at heart!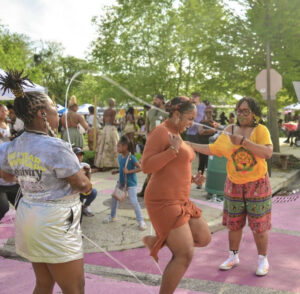 The Double Dutch Photo
The double dutch photo is my favorite because it's a joy I've had since childhood and the photo was taken at BLK ASS FLEA MKT this summer (Black joy times two!).
Literature that Speaks to Me
Sassafrass, Cypress, and Indigo by Ntozake Shange really did a number on my spirit (in the best way) because it's the first piece of work that felt personal- like it was written for all my complexities as a Black woman. It was an affirmation to feel no shame about any of my layers. I'm ready to read it again!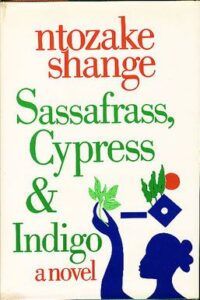 A big, open-heart WELCOME, Brianne.
CityLit Project,
Carla, Dana, Bunky, Chelsea, Aditya, Brian & Tracy