Scribente Maternum: Remember Your Mother
January 14, 2022

-

January 15, 2022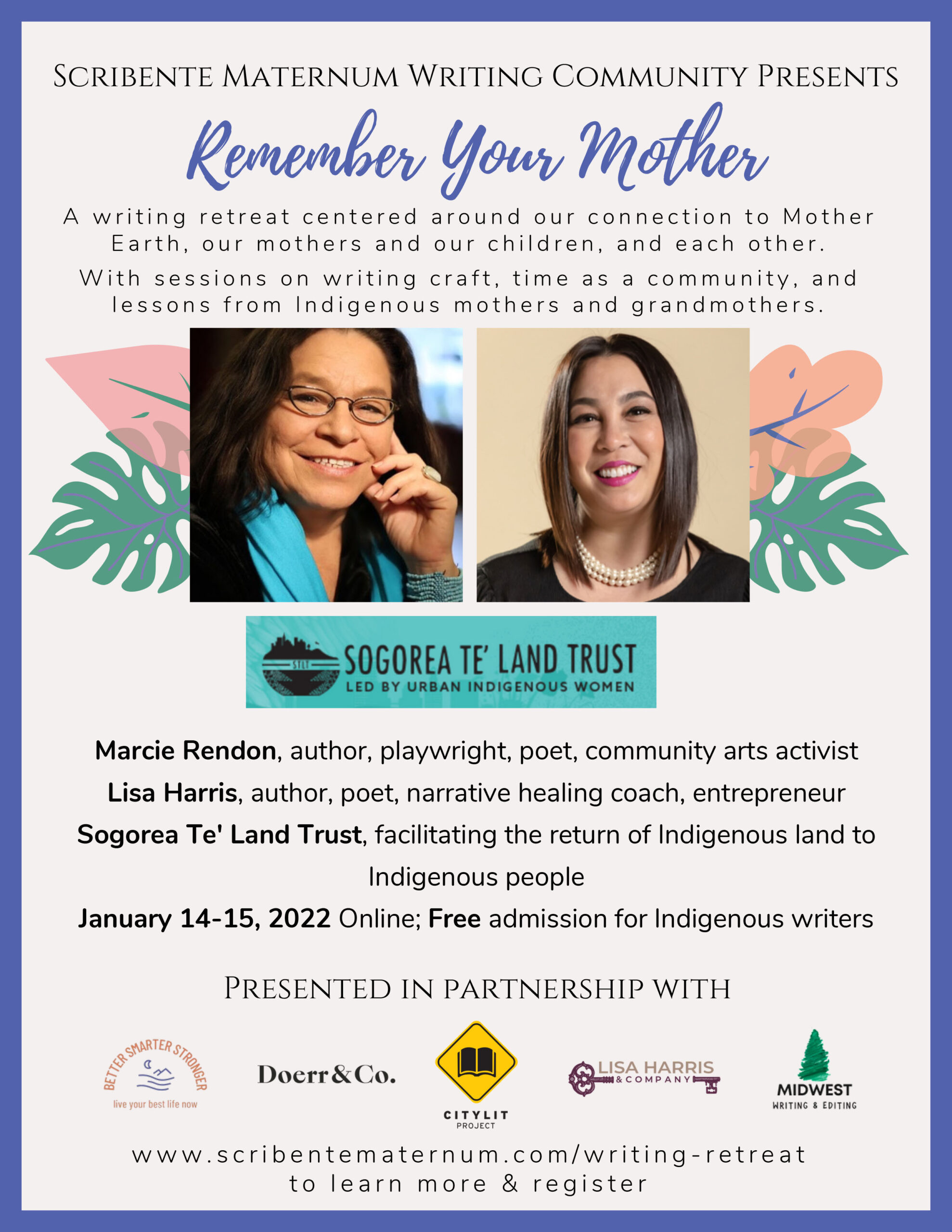 An online writer's retreat for mothers who write.
Join us January 14-15  for a weekend of self-discovery, a writing retreat centered around Native American spirituality and our connection to Mother Earth featuring Marcie Rendon and Lisa Harris​ and centering and reconnecting to Mother Earth with Sogorea Te Land Trust. This online retreat costs but it will also offer a time to connect to something greater, to become more grounded to the Earth, and more centered in our writing, for our children, and for ourselves.​
Writing craft and inspiration with author, playwright, poet, and teacher Marcie Rendon, a citizen of the White Earth Nation and the author of numerous publications.
Narrative healing of "the maternal wound" with Lisa Harris.
Also featuring Sogorea Te' Land Trust, an urban Indigenous women-led land trust that facilitates the return of Indigenous land to Indigenous people.
What will we gain in the experience?
•  We will remember our place in the world, the various roles we take on, and the connection we have to others and to nature through our writing.
•  We will absorb the great wisdom around motherhood that comes from Indigenous spirituality and culture.
•  We will learn from two Native women about the maternal connection to the land and the beings therein (specifically through rematriation of the land).
•  We will grow in our perspectives on writing from Native writers and teachers. Two days of writing with acclaimed writers, teachers, and performers.
•  Intimate time with small writing groups
•  Purposeful time with your own writing
•  The space you need to rest and restore yourself for Mother Earth and your own children and ancestors
•  A beautiful retreat experience, crafted specifically for the online space that will carry you long past two days
Last year with Maria Broom, Karen Hoppert, Milda DaVoe, and Rebecca Walker we proved we could find inspiration and quality time to write and reflect in an intimate Zoom space with strangers who become friends. Join us for our second online experience and an opportunity to write like a mother.
---
THIS IS A VIRTUAL EVENT. REGISTRATION IS REQUIRED.
Please register here.
Please note: $$ This is NOT a free event but the price of admission is severely reduced and allows us to support presenting artists and grow this online community of writers. For writers in Maryland, we encourage you to apply for a Professional Development Grant at MSAC.
OR
This holiday season, ask for the gift of time and space to join mothers from across the country for two days. A time well spent that will leave you whole.