CityLit takes great pride in disrupting the norm by surprising our audiences with unique, one of a kind, remarkable experiences to engage in the literary arts. Our partnerships with organizations, groups, companies, and publishers help us grow all things literary, including a range of special events.
"Write Like a Mother Retreat" for every writer who identifies as a mom.
Scribente Maternum is a writing retreat for parents serving in the ever-important maternal role. It is a space where creativity and care are nourished and cultivated. It is a call to action to do something even bigger through collective care. This year's event will be an in-person retreat, October 20-23, 2022, featuring writing craft facilitators Tyrese Coleman, author of How to Sit, Ada Calhoun, author of Also a Poet: Frank O'Hara, My Father, and Me, and Remica Bingham-Risher, poet and author of Soul Culture: Black Poets, Books, and Questions that Grew Me. Attendees will also get to flex their creative muscles through a visual journaling exercise with Towson University art professor Amanda Burnham. Creative movement and meditation will be experienced with actress, storyteller and beloved Baltimore resident, Maria Broom, along with facilitators Ana Rodney, Jaree Cottman and Emily Souder.
Scribente Maternum is not a writing workshop. Rather, it is a place for mothers who write to take a moment to breathe and create. The writing you create is for you and you alone, unless you choose to share. The name is a play on "writer mom" in Latin. That might sound fancy, but this community is down-to-earth and inclusive. The one thing we are serious about is how central parenthood is to the human experience. Our goal is to embrace the tensions that exist between parenting and writing: the exhaustion from being the on-call parent, coupled with the creative inspiration our kids provide. Scribente Maternum offers a space to put our vulnerabilities on the table and provides support for each other to tap into that energy for our creative work. Writers at all stages of their creative lives are encouraged to join us. Whether you're just beginning as a writer or you're a seasoned, published author, this space is for you.
What you can expect at a retreat: experienced facilitators and presenters, large group gatherings, coupled with small group support, tone and space to create headspace for writing, time to write, movement and self-care, other creative disciplines, connection to place – in person or virtual. Small groups will offer you the space to dive into your writing areas of interest. Affinity groups will vary depending on who is attending the retreat, but may include grief and loss, Black mothers, mothers of color, LGBTQ+ parents, white allies and antiracism, new parents, new writers, parenting through relationship challenges, and whatever else our community needs. Justice and equity are a central aspect to Scribente Maternum, both through our retreats and within our community. We seek to amplify and connect with writers and creators of color to center their wisdom and expertise within this community. Limited partial and full funding will be available for those who are interested.
Click here to read more about this event.
Writers Resist: Baltimore
After the 2016 election, when it became clear many communities in the region were deeply affected, we joined a global effort to inspire a unified vision for the future of Democracy by presenting an historic event Writers Resist: Baltimore. 
We contacted 18 poets, a multi-cultural, generational, economically, and regionally diverse array of poets. For three hours- standing room only – artists and audience gathered as one at EMP Collective and in partnership with 100 Thousand Poets for Change for a powerfully-rendered Sunday afternoon of poetry.
We still hear people speak to that experience, which featured the following writers and the communities they represent:
Saida Agostini
Abdu Ali
Linda Joy Burke
Andria Nacina Cole
Navasha Daya
Dario DiBattista
Derick Ebert
Fred Foote
Reinne Jahnai
Kevin Shird
Mejdulene Shomali
Edgar Silex
Laura Shovan
Tariq Touré
Ron Kipling Williams
Writers in Baltimore Schools Students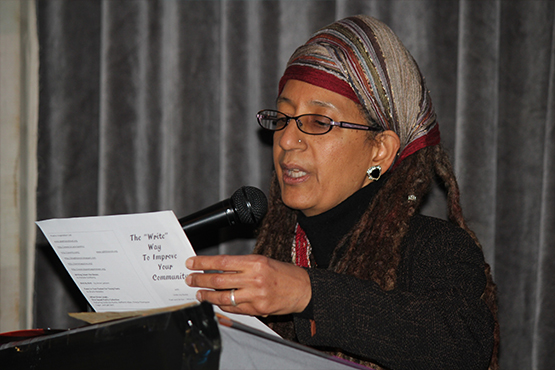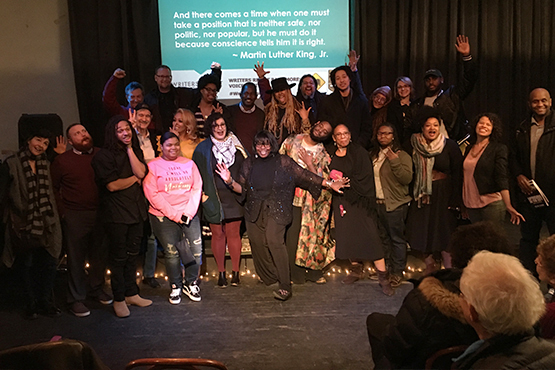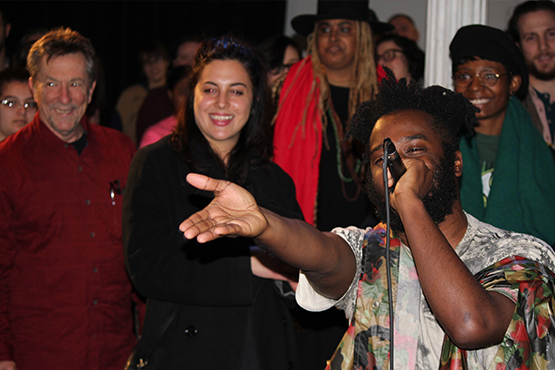 Well Read Black Girl with Glory Edim
Since CityLit means many things to many people, we understand when a movement of sorts shows promise, so when Glory Edim started her online book club that quickly went viral, the Well Read Black Girl, we invited her 'home' to her roots in DC. We also made an open call to audience members to write their own discovery of finding a representation of themselves in literature, how it resonated in their lives, how and if it affected their literary journey as writers. In an intimate moment that resonated throughout the room, participants willingly shared these narratives and felt 'seen'. Joining Glory were presenters, Jess Solomon, Elissa Blount Moorhead, and Andria Nacina Cole who shared their Top Ten Favorite Books. Click here to view a list of their favorite books.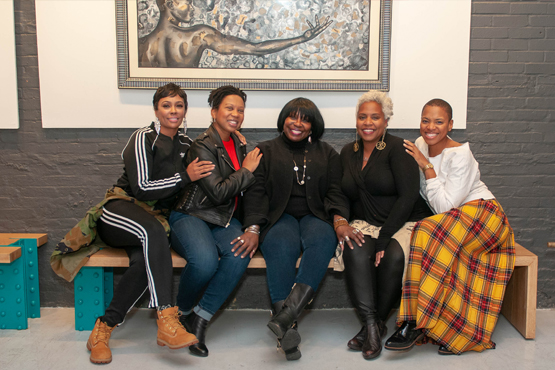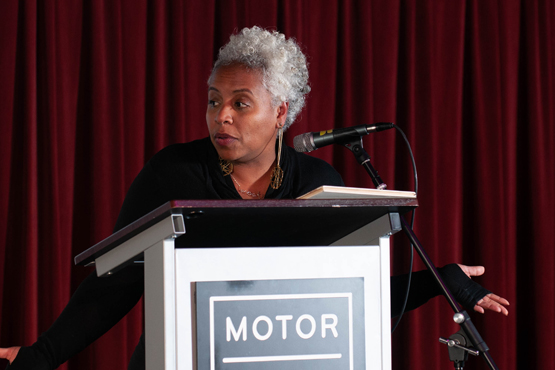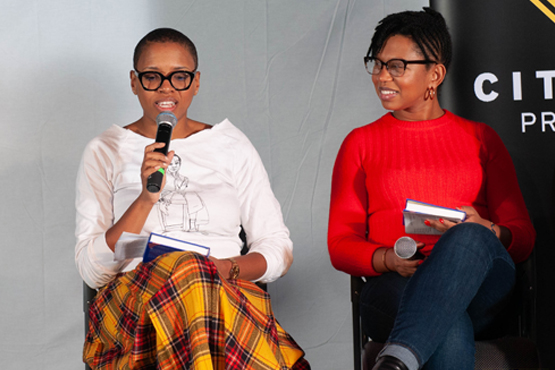 In our ongoing partnership with the Enoch Pratt Free Library, CityLit joins forces to present celebrated poets and writers throughout the year through the Pratt's Writers Live program showcasing regional and national authors at one of its branches.
In the past, CityLit has partnered with them to present Roxane Gay, Walter Mosley, Saeed Jones, and so many others, including an annual anniversary reading with Cave Canem fellows with Poet House's Reggie Harris in December.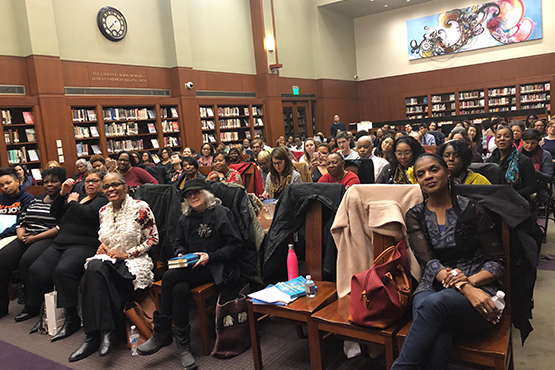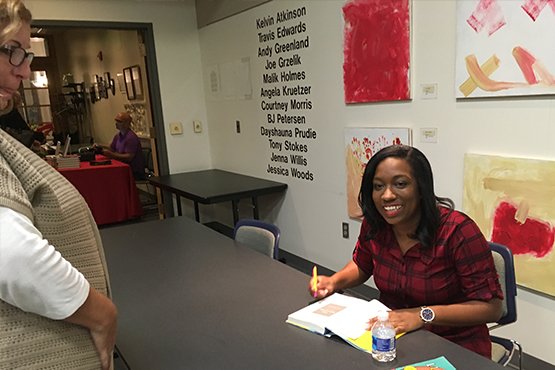 Partnerships & Special Events
Celebrate Literature Together
We invite you to join us for our signature events, too, as we celebrate together.
GROWING ALL THINGS LITERARY. TOGETHER.
CityLit's partnerships have been of vital importance since its inception and have grown steadily every year. We welcome mutually beneficial public, private and corporate collaborations designed to celebrate literature and expand our impact. Our partners include leading Baltimore cultural organizations, public arts agencies, area colleges and universities, city-wide reading programs, public schools, performance groups, local and national poetry groups, book stores, event spaces, libraries, corporate sponsors, and local, regional and national publishers.
Ready to help celebrate and grow the literary arts?

I have loved how CityLit invites me beyond the solitary work of writing – offering meaningful connection to other literary artists and readers, embracing diversity in genre and life experience.

Chelsea Lemon Fetzer, CityLit Project Board Member, Poet and fiction writer, Adjunct Professor of Literature and Creative Writing, University of Baltimore
Have you been invited to appear at a CityLit event?
For those authors who have been invited to present, please follow the link below to submit your author information to CityLit.