by Chelsea Lemon Fetzer

If you get the chance to take a class with George Saunders, don't miss it.  Sure, he is one of the most masterful writers we get to walk the earth with. Sure, his books and essays have earned so many of literature's most honored accolades that they could steamroll anything I might try here. But never mind that. Here's what I want you to know — George Saunders is a phenomenal teacher. I consider myself very lucky to be able to tell you so, as I was one of his Fiction MFA students at Syracuse University (never mind how many years ago). As I sat for the first time in his class, writing book at the ready, I was hopeful — but had no idea how perpetually pivotal he would be to my evolution as a writer. 
There's a magic to George Saunders, as a man and as a teacher. Because it's magic, scientifically, I can't explain all of it. But his generosity and humor are no small part of the alchemy. In my favorite lessons, he will make you laugh. At the same time, he might be drawing the shape of a story on a blackboard, translating the way you think about it into a pattern or a map — one you never saw was there — but now that you do, now that you do — you know just why it's your new favorite. I've known the generosity of his insights and questions to topple even the most stubborn blockades as I've turned to my own work's vital organs and braved its darkest corners. We writers need weird-shaped tools, and dumb courage, and a relentless sense of humor. Saunders reminds us of the great company we keep in that — and how the ways we can learn from each other are just as limitless as our stories.
So, here's the good news, you get a chance to take a class with George Saunders. And you don't even have to change out of your sweatpants or leave your couch (ok, these days that much is obvious). I am so excited he will lead CityLit Festival's Masterclass this Wednesday, March 17, 2021.  Mark your calendars (7:30-8:30pm EST) and follow this link: CityLit Festival Master Class with George Saunders – CityLit Project.
Hey — I'll see in you George's class.
"A Little Romance: Reading Chekhov to Understand Love"
In this class, we'll first read, in advance, Chekhov's masterpiece, "The Lady with the Pet Dog."  Then, in a virtual format, Booker-Prize winning author George Saunders will offer us his take on the story, as he has done since 1997 in his class on the Russian short story in translation, offered to his MFA students — some of the best young writers in America. At the end, we'll have a chance to dive even deeper into this story, through an open Q&A session. Paying attendees will receive a Zoom invitation days before the event goes live. Saunders rarely teaches a Master Class outside of the University but he joins us for this special Reimagined event.
"With his concise, unorthodox, and daring work, [Saunders] proves that the true subversives are not those who shout. They are those with the insight and mastery to show us a world that seems hilariously impossible and horrifyingly likely at the same time."  
— Telegraph
GEORGE SAUNDERS is the author of a novel, four collections of short stories, a novella, and a book of essays. His long-awaited novel (and most recent book), Lincoln in the Bardo, was published in 2017 and helped him earn the Man Booker Prize. Saunders's collection, Tenth of December, was the winner of the 2014 Story Prize and the 2014 Folio Prize. The recipient of a 2006 MacArthur Foundation Genius grant, his work appears regularly in The New Yorker, GQ, and Harpers Magazine, and has appeared in the O'Henry, Best American Short Story, Best Non-Required Reading, and Best American Travel Writing anthologies. He is the recipient of a Guggenheim Fellowship and was named one of the 100 Most Influential People in the World by TIME Magazine in 2013.
https://www.theparisreview.org/interviews/7506/the-art-of-fiction-no-245-george-saunders
https://www.wypr.org/show/midday/2021-03-19/a-swim-in-a-pond-in-the-rain-george-saunders-life-lessons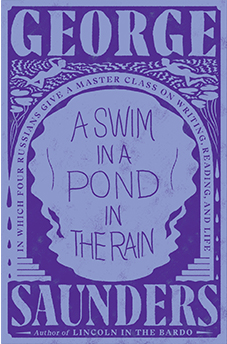 SWIM IN A POND IN THE RAIN
In A Swim in a Pond in the Rain, George Saunders guides the reader through seven classic Russian short stories he's been teaching for twenty years as a professor in the prestigious Syracuse University graduate MFA creative writing program. Paired with stories by Chekhov, Turgenev, Tolstoy, and Gogol, these essays are intended for anyone interested in how fiction works and why it's more relevant than ever in these turbulent times. Saunders approaches each of these stories technically yet accessibly, and through them explains how narrative functions; why we stay immersed in a story and why we resist it; and the bedrock virtues a writer must foster. For the process of writing, Saunders reminds us, is as much a craft as it is a quality of openness and a willingness to see the world through new eyes. Funny, frank, and rigorous, A Swim in a Pond in the Rain ultimately shows how great fiction can change a person's life and become a benchmark of one's moral and ethical beliefs.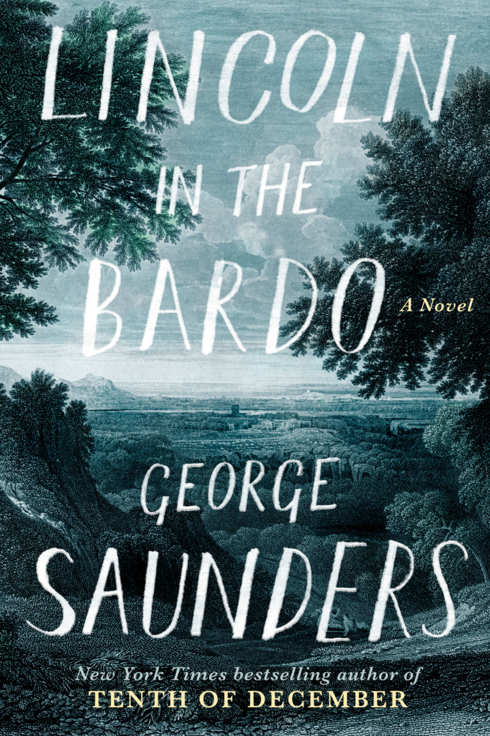 LINCOLN IN THE BARDO
"This really stood out because of its innovation — its very different styling and the way in which it paradoxically brought to life these not-quite-dead souls in this other world."
– Lola Young, Man Booker Prize Judge
In his long-awaited first novel, American master George Saunders delivers his most original, transcendent, and moving work yet. Unfolding in a graveyard over the course of a single night, narrated by a dazzling chorus of voices, Lincoln in the Bardo is a literary experience unlike any other — for no one but Saunders could conceive it.
CHELSEA LEMON FETZER holds an MFA in Fiction from Syracuse University. Her fiction and poetry have been published in journals such as Callaloo, Tin House, Mississippi Review, and Minnesota Review.  Her essay "Speck" appears in The Beiging of America: Personal Narratives about being Mixed Race in the 21st Century. She was a 2019 Rubys recipient for the Literary Arts and teaches literature and creative writing at the University of Baltimore. She serves as Vice Chair on the board of CityLit Project and as head editor of Little Patuxent Review, a literary and arts journal that publishes creative work from the MidAtlantic region and beyond.