One Book Baltimore YOUth Speak
January 15 @ 10:00 am

-

11:30 am

Free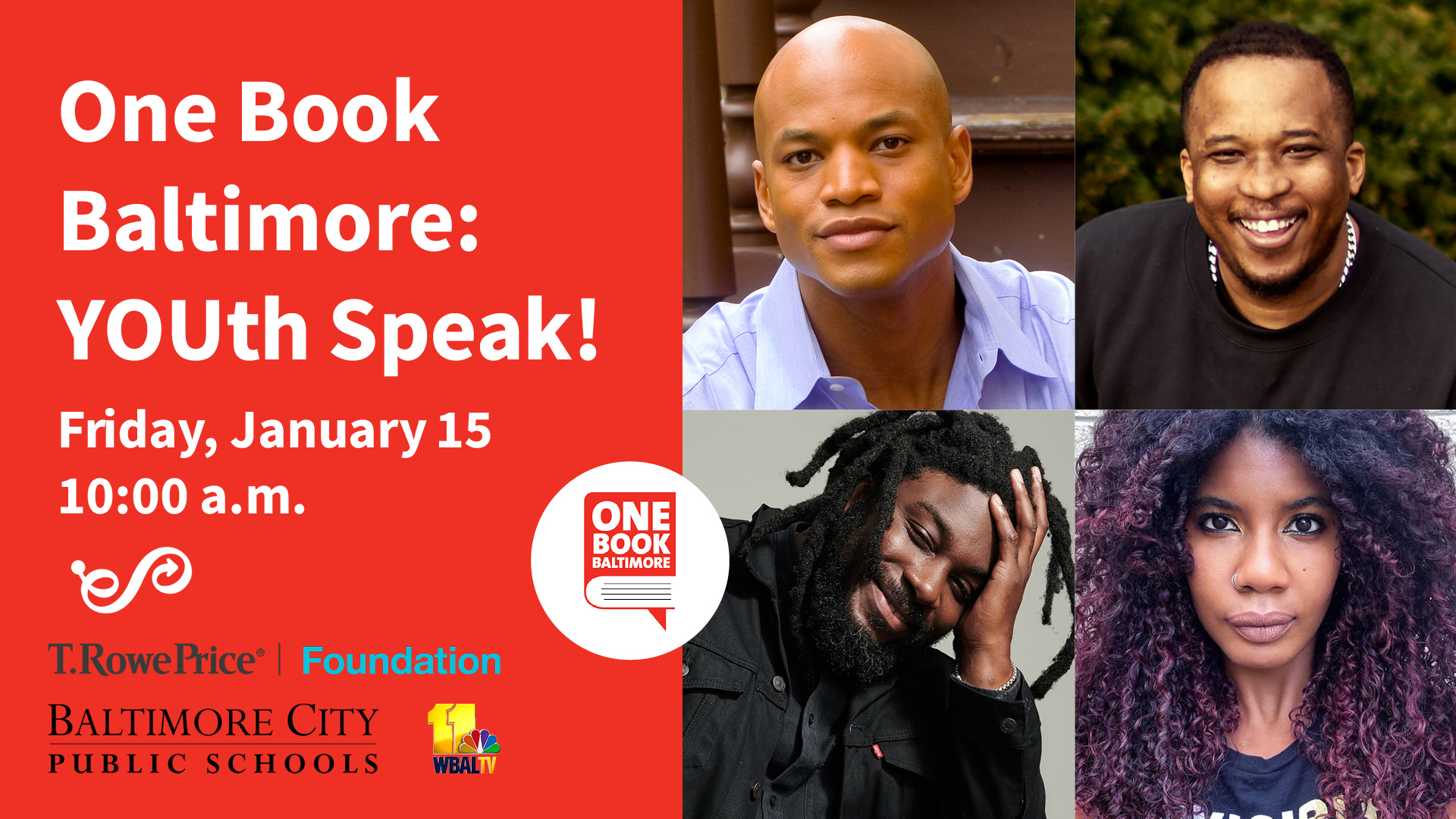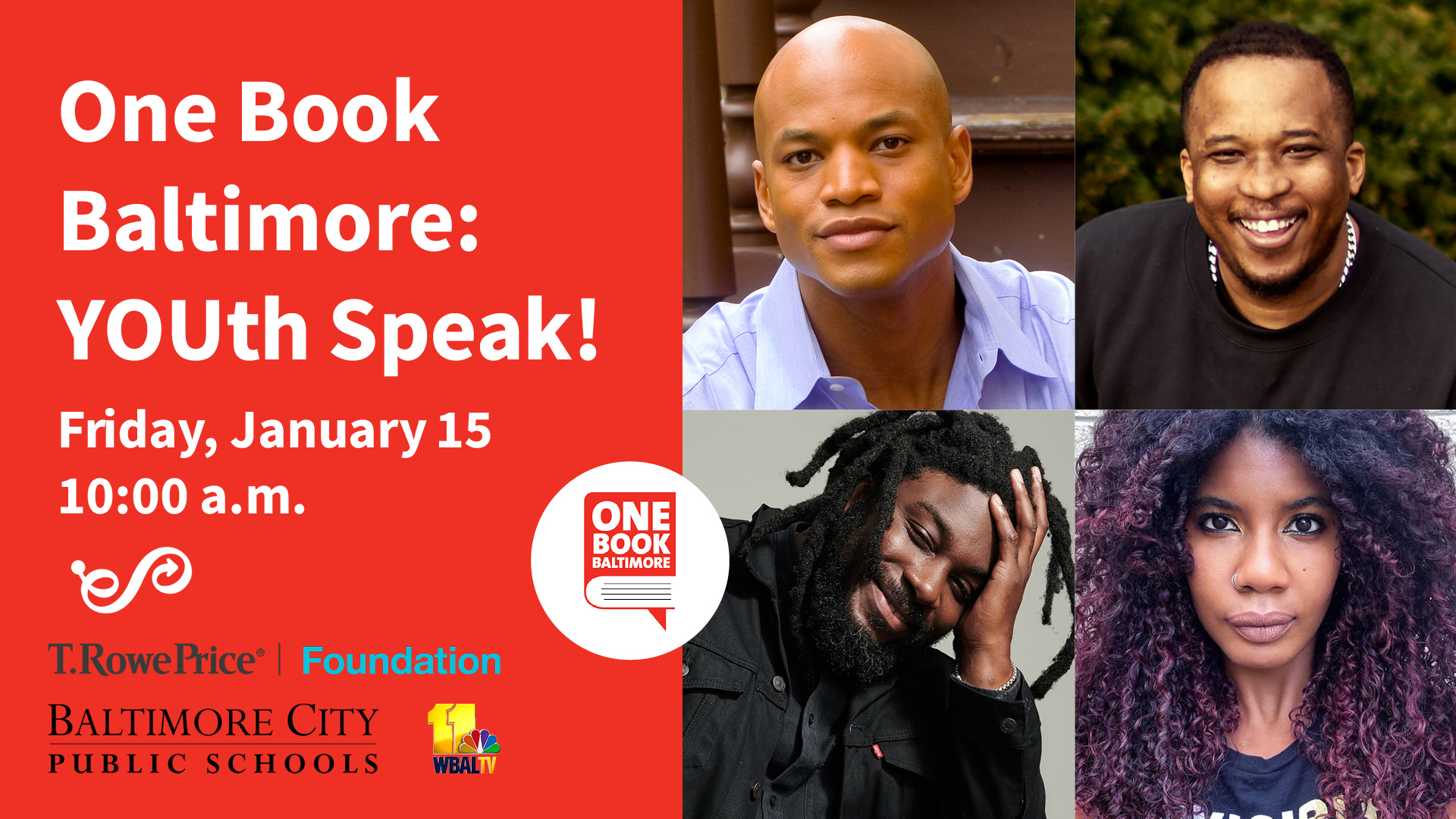 One Book Baltimore YOUth Speak with featured authors Nic Stone, Jason Reynolds, 2019 Dambach Award Winner D. Watkins in conversation with Wes Moore.
One Book Baltimore provides opportunities for Baltimore City 7th and 8th graders, their families, and community members to connect through literature by reading the same book. To spotlight the importance of reading with our youth the first three featured authors of this highly engaging program will be highlighted.
This is a virtual event. Click here to join the webinar. The passcode for this event is 874423.
---
Nic Stone was born and raised in a suburb of Atlanta, GA, and the only thing she loves more than an adventure is a good story about one. After graduating from Spelman College, she worked extensively in teen mentoring and lived in Israel for a few years before returning to the US to write full-time. Growing up with a wide range of cultures, religions, and backgrounds, Stone strives to bring these diverse voices and stories to her work. You can find her goofing off and/or fangirling over her adorable little family on most social media platforms.
Jason Reynolds (National Ambassador of Young People's Literature) is a #1 New York Times bestselling author, a Newbery Award Honoree, a Printz Award Honoree, a two-time National Book Award finalist, a Kirkus Award winner, a two-time Walter Dean Myers Award winner, an NAACP Image Award Winner, and the recipient of multiple Coretta Scott King honors. Reynolds is also the 2020–2021 National Ambassador for Young People's Literature. His many books include When I Was the Greatest, The Boy in the Black Suit, All American Boys (co-written with Brendan Kiely), As Brave as You, For Every One, the Track series (Ghost, Patina, Sunny, and Lu), Look Both Ways, and Long Way Down, which received a Newbery Honor, a Printz Honor, and a Coretta Scott King Honor. He lives in Washington, DC. You can find his ramblings at JasonWritesBooks.com.
D. Watkins (2019 Dambach Award Winner) is Editor at Large for Salon.  His work has been published in the New York Times, New York Times Magazine, The Guardian, Rolling Stone, and other publications.  He holds a Master's in Education from Johns Hopkins University and an MFA in Creative Writing from the University of Baltimore. He is a college lecturer at the University of Baltimore and founder of the BMORE Writers Project and has also been the recipient of numerous awards including the BMe Genius Grant, and the Ford's Men of Courage. Watkins was also a finalist for the Hurston Wright Legacy Award and Books for A Better Life.  He has lectured at countless universities, and events, around the world. Watkins has been featured as a guest and commentator on NBC's Meet the Press, CNN's The Erin Burnett Show, Democracy Now, and NPR's Monday Morning, among other shows.v Watkins is from and lives in Baltimore. He is the author of the New York Times bestsellers The Beast Side: Living (and Dying) While Black in America and The Cook Up:  A Crack Rock Memoir and We Speak for Ourselves: A Word from Forgotten Black America.
Wes Moore is the CEO of Robin Hood, one of the largest anti-poverty forces in the nation. He is a bestselling author, a combat veteran, and a social entrepreneur. His first book, "The Other Wes Moore," a perennial New York Times bestseller, captured the nation's attention on the fine line between success and failure in our communities and in ourselves. That story has been optioned by executive producer Oprah Winfrey and HBO to be made into a movie. He is also the author of the bestselling books "The Work," "Discovering Wes Moore," and "This Way Home."
Wes grew up in Baltimore and the Bronx, where he was raised by a single mom. Despite childhood challenges, he graduated Phi Theta Kappa from Valley Forge Military College in 1998 and Phi Beta Kappa from Johns Hopkins University in 2001. He earned an MLitt in International Relations from Oxford University as a Rhodes Scholar in 2004. Wes then served as a captain and paratrooper with the U.S. Army's 82nd Airborne, including a combat deployment to Afghanistan. He later served as a White House Fellow to Secretary of State Condoleezza Rice. Before becoming CEO at Robin Hood, Wes was the founder and CEO at BridgeEdU, an innovative tech platform addressing the college completion and job placement crisis. BridgeEdU reinvents freshman year for underserved students. Wes remains chairman of the board of directors at BridgeEDU. He has also worked in finance as an investment banker with Deutsche Bank in London and with Citigroup in New York. Wes' proudest accomplishments are his two children with his wife Dawn.