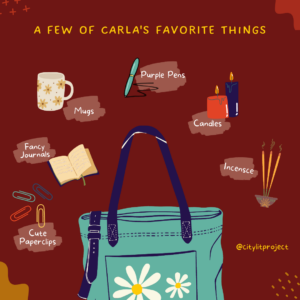 Every now and then the world offers up small pleasures that make the day seem doable. Like you can plant your butt in a chair and get the grant work done. You can find a bit of light on a cloudy day that brings you a small kind of joy. In this festive season, I'd like to share a few of my favorite writerly things … perhaps nerdy … always artsy … somewhat pricey … nonsensical things that lift this girl's spirit, and settle me into doing the good work. 
It can't be just me. Share your own bits of guilty pleasures on this feed. Let's grow a LitLover's Wish List to anyone needing a lift or trying to figure out what to buy the writer in their lives.
*Purple Pilot Fountain Pens – Yes, I'm a purple joy girl. Bought by the box or when I'm in a pen shop that has them, I scoop them all up. Greedy gurl, yes. Sorry, not sorry. They have an enviable, effortless writer's flow. I've gifted these to writers across the country, especially at AWP. The minute someone asks to use one, I get a look that says, "Can I keep?"
https://tinyurl.com/c7myz79x
*Fancy Bookmarks and Paper Clips – I did say nerdy. I don't know many people who even care about this type of thang, but I do, lit peeps. I love taking notes on paper even with my computer humming in the background. So what? As long as I can read my scribbles, Imma keep on keeping on. Working on a long, overdue novel and using cute clips to mark my pages, keeps the guilt at bay. All can be recycled for the next 'event' or manuscript.
poketo.com and erincondren.com
*Levenger.com – Shh! I did say pricey but 'er now and then a writer splurge is necessary. Also, catch their sales or send the link to someone to gift you.  Some say if the notebook or journal is too pre-tay you won't do hard work in it. Don't believe the hype. I can say I've left many a blood, sweat, and tears in the prettiest ones, and they are good for the wear and the tears. This is just one prized online spot of MANY, as I'm always on the hunt for a notebook or journal that just feels right. Opens flat, quality paper, easy flow, no bleed throughs, big enough to hold and to write your hard truths. levenger.com
Shout out to https://www.dramamamabookshop.com/
*Candles – Who are we without light? Fragrant ones with essential oils on a cold, winter morning feel like peace blooms and set the tone of the day. They also speak "calm" to me on writing days and days when the work calls for focus. And don't knock tea-lights in a special candle holder as a go-to. They tend to be 'safe' if you step away for a short period of time.  Aromatherapy should be a part of everyone's daily. Sorry for those with scent allergies.
https://holistichabitatclt.com/
*Incense – A rebel child of the 70's, I light incense as often as I do my candles, in the morning to settle the day or to begin a boatload of got-t0-do work. My favorite scents: dragonblood, sandalwood, palo santo, and lately kenyan safari. Throw in a whimsical incense holder, and the world becomes divine.
https://buddhagroove.com/collections/smudge-incense-candles
*TeATottler – For the tea drinker in you that engages in the rituals of a good steep and bountiful flava. I must say, find me a tea shop then look for me hours later, a heavenly experience. Find the perfect mug, and I'm in trouble.
https://teaforte.com/
From our Team:
Tracy Dimond
A spell book from Former Housewife.
I just bought the "Why Daddy" Spell Book. It's covered in purple plaid and even has a denim spine – Amanda McCormick makes beautiful creations to hold your thoughts or drawings.
Zeke's coffee
: perfect any day, but especially on cold winter days while reading in the morning
It's the simple pleasures of self care that do wonders for your spirit. Spread the cheer. 
Post a small pleasure with a link of your favorite things in the Comments. We'll make this a go-to- Writer Gift List. Let us hear from you.