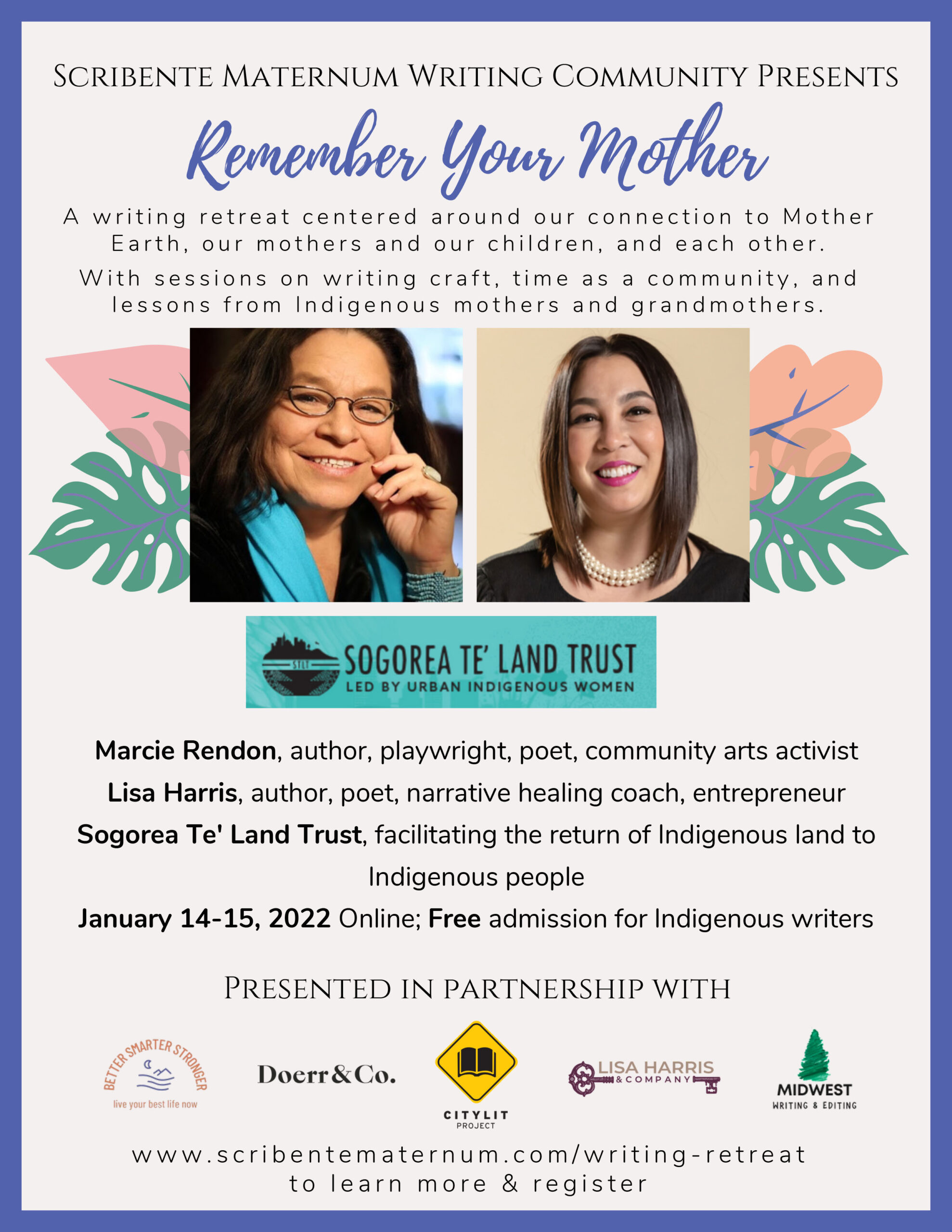 An online writer's retreat for mothers who write.
Join us for "Remember Your Mother" on January 14-15  for a weekend of self-discovery, a writing retreat centered around Native American spirituality and our connection to Mother Earth featuring Marcie Rendon and Lisa Harris and centering and reconnecting to Mother Earth with Sogorea Te Land Trust. This online retreat costs but it will also offer a time to connect to something greater, to become more grounded to the Earth, and more centered in our writing, for our children, and ourselves.​
Writing craft and inspiration with author, playwright, poet, and teacher Marcie Rendon, a citizen of the White Earth Nation and the author of numerous publications.
Narrative healing of "the maternal wound" with Lisa Harris.
Also featuring Sogorea Te' Land Trust, an urban Indigenous women-led land trust that facilitates the return of Indigenous land to Indigenous people.
What will we gain in the experience?
•  We will remember our place in the world, the various roles we take on, and the connection we have to others and to nature through our writing.
•  We will absorb the great wisdom around motherhood that comes from Indigenous spirituality and culture.
•  We will learn from two Native women about the maternal connection to the land and the beings therein (specifically through rematriation of the land).
•  We will grow in our perspectives on writing from Native writers and teachers. Two days of writing with acclaimed writers, teachers, and performers.
•  Intimate time with small writing groups
•  Purposeful time with your own writing
•  The space you need to rest and restore yourself for Mother Earth and your own children and ancestors
•  A beautiful retreat experience, crafted specifically for the online space that will carry you long past two days
Last year with Maria Broom, Karen Hoppert, Milda DaVoe, and Rebecca Walker we proved we could find inspiration and quality time to write and reflect in an intimate Zoom space with strangers who become friends. Join us for our second online experience and an opportunity to write like a mother.
---
MARCIE RENDON is a citizen of the White Earth Nation and on Oprah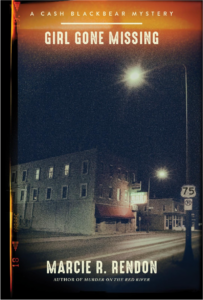 Magazine's list of 31 Native American Authors to read. Her work has received numerous awards, including a McKnight Distinguished Artist Award, 50over50 Minnesota AAARP Award, and the Pollen Award. Rendon's award-winning/nominated crime novels are Girl Gone Missing and Murder on the Red River. Rendon also writes children's books and plays for theater. Along with Diego Vazquez, she received the Loft's 2017 Spoken Word Immersion Fellowship for work with incarcerated women.
Marcie's Artistic Statement:
"We are kept in their mindset as "vanished peoples." Or as workers, not creators… What does this erasing of individual identity do to us? Can you believe you exist if you look in a mirror and see no reflection? What happens when one group controls the mirror market?
As Native people, we have known that in order to survive we had to create, re-create, produce, re-produce. The effect of the denial of our existence is that many of us have become invisible…the systematic disruption of our families by the removal of our children was effective for silencing our voices.
However, not (everyone) can still that desire, that up-welling inside that says sing, write, draw, move, be… we can sing our hearts out, tell our stories, paint our visions…we are in a position to create a more human reality…in order to live we have to make our own mirrors."
Poet Laureate Joy Harjo Collaboration
"When the Light of the World was Subdued, Our Songs Came Through" a brand new anthology of Native poetry edited by Poet Laureate Joy Harjo, includes the poem: 'what's an indian woman to do…' by Rendon. This anthology features the work of more than 160 poets, celebrating the rich and varied poetry of the Indigenous peoples across Turtle Island (North America). Opening with a blessing from Pulitzer Prize–winner N. Scott Momaday, each section begins with a poem from traditional oral literature and closes with emerging poets.
https://www.marcierendon.com/
Twitter: @marcierendon
Instagram: @marcierendon
LISA HARRIS's entrepreneurial journey began in 2016 after publishing her first book, Unveiled Beauty: Handwritten Stories From a Poetic Heart. Prior to that, she spent +18 years in executive leadership roles working for and with many Fortune 500 companies and nationally recognized brands. Lisa built high-level strategies and executed profitable multi-million-dollar businesses. At the core, Lisa has always been more than a businesswoman; she is a natural intuitive, a bridge-builder, a storyteller, and a poet. Lisa guides women on their personal growth and empowerment journeys through the lens of their own life stories. Lisa is in her 5th year producing Unveiled Beauty events, coaching, and speaking. With a professional background and personal interest in fashion and beauty, she has also gone on to produce several fashion shows. Check out Lisa's conversation with Scribente Maternum co-founder Rachel Berg Scherer on the healing power of writing below.
Lisa Harris & Company is a personal development company that connects, guides, and transforms women's lives through the power of storytelling. They provide tools and experiences for growth-oriented women to lead empowered lives by shifting their narratives, giving voice to their stories, and building authentic connections. They offer narrative coaching programs, inspirational events, storytelling leadership training, plus community and creative projects that touch the hearts of women everywhere.
http://lisaharrisandco.com/
What are people saying about Scribente Maternum online retreats?
"[Your speakers] touched me immensely today. Their words and ideas were great reminders and inspirations for my daily life!" ~Emily
"It was so wonderful. Not one time was I thinking about would else I 'should' or 'could' be doing. That hasn't happened in far too long." ~Kate
"Wow, that was amazing! Your opening had me in tears- and then the presenters and the women in my small group…thank you!!! I'm adding this to as a good thing to come out of pandemic." ~Kristin
"Thank for this gift! Today was truly what my heart & body needed. Thank you!!!" ~Lisa
"Thank you for creating this space! I'm so excited and [your speakers are] freaking awesome! I didn't anticipate crying, and then I did." ~Sara
"What a beautifully planned and orchestrated gathering. I could feel the spirit, the love, the caring. Such a treasure." ~Lana
FOR MORE INFORMATION, visit:
https://thelaclaregroup.swoogo.com/rememberyourmother
---
THIS IS A VIRTUAL EVENT. REGISTRATION IS REQUIRED.
Please register here.
Please note: $$ This is NOT a free event but the price of admission is severely reduced and allows us to support presenting artists and grow this online community of writers. For writers in Maryland, we encourage you to apply for a Professional Development Grant at MSAC.
OR
This holiday season, ask for the gift of time and space to join mothers from across the country for two days. A time well spent that will leave you whole.