This Wednesday, March 24, 2021 writers/teachers, Gayle Danley and Kimberley Lynne, will conduct the first in a series of workshops, The Joy of Grief: Finding Life in Death.  
The two motherless teachers will guide grievers on how to use creative writing to cope with grief. Using poetry, fiction, or memoir prompts and guided meditation, Kimberley and Gayle will help students navigate the swamp of sorrow and travel on to a place of nurturing healing and community. 
Both faculty members battle despair from the loss of loved ones but are not social workers or ministers. 
Gayle Danley is the CEO of Poetry Pros, Former National and International Poetry Slam Champion, and the Maryland Library Association Poet of the Year. 
Kimberley Lynne is a writer and a teacher. Over 40 of her plays have been produced and her ghost folklore novel published. She's taught screenwriting, playwriting and composition for seventeen years.  
Gayle Danley says of grief in her blog:

Let's Talk: Moaning for Mama
Eventually, the posters will be thrown away and the voices will still. Gut-stirring images of protestors covering every inch of street will become memory, gorgeous pictures placed on the coffee tables of our hearts. New laws will crawl onto the books, and America will breathe again until the next "oh no" makes the news and further fractures our sense of protection within these walls.
Even Brother Floyd's murder will become another gritty poem, one thing will remain:
The moan.
Didn't you just collapse at the sound of it? Right now, I'm thinking I should go back and listen again so I can capture its impact in this writing, but I can't. I won't. I don't ever ever ever ever want to hear him cry again, his pleas rising while his body lies belly-down on the street. I can't bear the sound; it's too triggering. It reminds me of every pang of longing I've ever felt for my own mama, wanting her to come back to me. Begging her not to leave. Wanting to join her wherever she is now. Fantasizing at the funeral of Mama #1 that if I could just jump in the casket with her, she wouldn't leave here without me. Envisioning, with Mama #2, being cremated with her, burning down to ash so her urn would be our new home. One bedroom apartment. No kitchen.
I must've been shelf-height when I lost Mama #1 in Kmart. I don't recall much about that shopping trip: what we were there to buy, what my mother wore, whether the store was crowded or bare. But I do remember losing her hand in one of the aisles. I do remember my stomach and heart trading places. I don't even recall reuniting with her, only the scream of sweat on my skin while we were apart those few minutes, untethered terror dripping like ice water through my little body.
Is that what George felt during those almost-nine-minutes-that-must've-felt-like-hours while he was being murdered? Did he feel himself coming closer to his mother or moving further away, like losing the grip of her hand in the grocery store? Was he calling out for her help or standing in her presence? Did he find her inside the folds of that primal moan? Did she swoop down, on a cold street in Minneapolis, to take her brown boy home?
Is Mama the last word we all will utter? Makes sense, right, that our first word might also be our last?
When the posters have been repurposed as dust pans and the chants silenced to whispers, I believe all that will survive will be his moan, our moan. A massive cry for justice in a room with a grandfather who's deaf in one ear.
A begging for our mothers to stop by and rescue us. Take us home.
http://grieffriend.org/moaning-for-mama/
A few of her grief videos:
A letter to grief that Kimberley Lynne wrote:

Dear grief,
I realize you are part of love, but you're also sneaky and surface like a shark in shallow water. When you bite, I sob and hope the convulsions will shake you outta my bones, but you're here to stay, and your pain vibrations shift a numb veil. I am fully alive. I try to savor every moment because she cannot. I just wish you'd give fairer warning before you camp out at my door.
With sorta love,
Kimberley
A prayer exercise that Lynne wrote:
Take into folds of light and love, my mother, as she blends into the glimmering of my father and her mother. Now she knows the path; let her guide us. Make a space for her in the stars.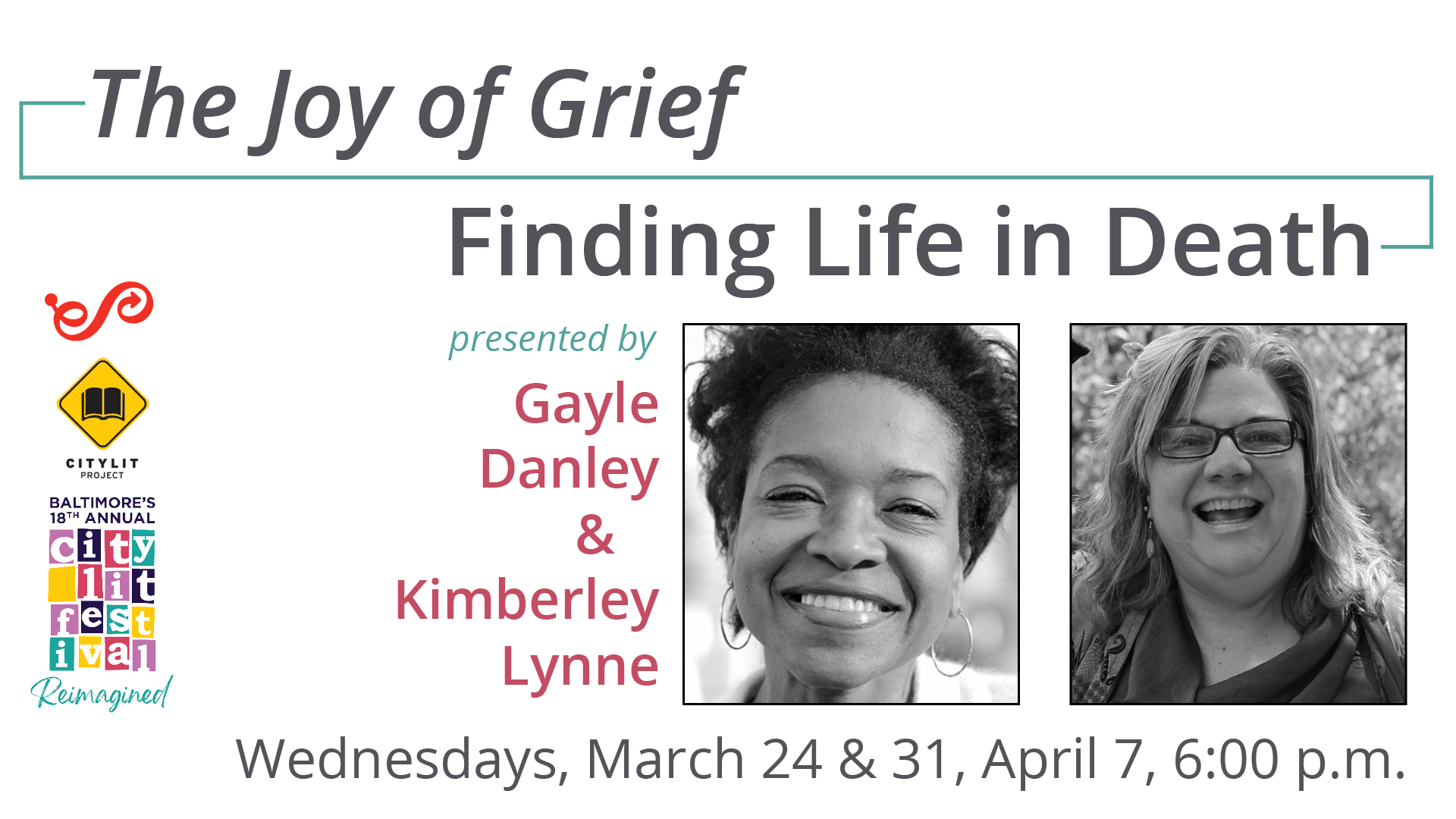 WORKSHOP DATES
Wednesday, March 24, 6-7:30pm 
Wednesday, March 31, 6-7:30pm 
Wednesday, April 7, 6-7:30pm 
RECOMMENDED READING
Hope Edelman, The AfterGrief, Finding Your Way Along the Long Arc of Loss
Jan Warner, Grief Day by Day