This fall, CityLit Project has been proud to  present 'Becoming American', a series of short vignettes & videos of ten immigrant women who now call Maryland home.
The series is produced by Saima Adil Sitwat, author of American Muslim: An Immigrant's Journey. Saima brings her years of journalistic experience to the project, highlighting the fears and ambitions, the struggles and achievements, and the quirks and comforts in these narratives.
But what is Saima's narrative? How did she put these stories together? What drives her own 'American' story? Here, CityLit Project Board Member Aditya Desai interviews Saima to get her thoughts on all things immigration, womanhood, the craft of writing, and the importance of community centered journalism in the current times. Read on below:
---
AD: Let's get to know a little bit about you! Readers should of course check out American Muslim for the full story…but I'm curious what the Saima Adil profile in Becoming American would look like. What does "Becoming American" mean for you? Is it marked by a specific moment or time, or something more transitional?
SAS: "Becoming American" has not been an event but a journey and not a piece of official document or receiving American passport. learning to ask for cream and not milk for my coffee and continues unto this day. I am still working on dropping "L" from salmon.
The language stuff was particularly distressing for me as I was an English teacher in Pakistan. But, apart from that, I am also grateful for the opportunity that America has afforded me. Some of my life experiences, even as a Muslim are uniquely American. In 2017, I served as the president of the Muslim Association of Greater Pittsburgh (MAP). A woman president of a mosque would be unheard of in Pakistan, my native country, where women seldom attend mosques.
AD: In your introduction to the series, you quoted a line by poet Muriel Rukeyser, "What would happen if one woman told the truth about her life? / The world would split open," saying you felt these words came too late in your life. Could you unpack that a little? Why do you feel so?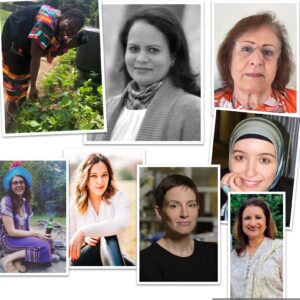 SAS:From a very young age, women are raised to embody perfection. We are conditioned to model this flawlessness in various roles of our lives as daughters, wives, students, and colleagues. My South-Asian roots especially demand women to accept every position that life offers them with gratitude, without "complaining" about it. When I read Muriel Rukeyser's words last year, I was struggling to bring my memoir American Muslim to a closure. The choice was between telling the whole truth and somewhat of a truth. As I debated writing about some of the earlier challenges in my marriage mostly because of being an immigrant in a new country and my struggle with mental health at one point.
Rukeyser's words helped me embrace my story in its entirety. However, it also left me with regrets about not voicing out some of my feelings and reaching out for help, at the time when I should have, because of societal concerns.
AD: You also noted that this project was continuing from your work as a journalist and capturing local communities in Western Pennsylvania. Could you talk a little more about this? What did those experiences teach you about the importance of getting personal stories to the public?
SAS: I relocated to Baltimore from Pittsburgh last year. In Pittsburgh, I worked with immigrant communities in various capacities, covering stories as well as serving in leadership roles at immigrant serving organizations. One of my favorite projects that I did during that time was for PublicSource, a local media outlet. It was in honor of the National Welcoming Week in Sept. 2017. It comprised of interviews of five individuals who called Pittsburgh home but represented different religions and ethnicities. The featured stories were widely successful and helped dispel myths and preconceived notions that people in general might have about immigrants and first-generation immigrant families. During the Trump administration, the right wing media presented immigrants in a very negative light, as people who stole from our country and plundered resources. There was definitely a need for more positive imagery of immigrants in the media and I felt that it could be best achieved if people can see and hear stories of immigrants who live and work in their communities. Personal stories help humanize "the other" by introducing us to folks who might not look like us but share our narrative as caregivers, parents and Americans.
AD: Take us through the process of putting this project together once you'd had the idea. How did you decide on the parameters? The medium, form, interviewees, and so on.
SAS: My first year in Baltimore was marked by the pandemic and lockdown. It was also the year when there was an increase in hate crimes against the East Asian community by almost 170 %. This was a direct outcome of the then administration labelling COVID-19 as "China Virus." Some of these hate crimes, which mostly targeted women, took place in my own backyard in Baltimore. Additionally, the year 2020 was a point in the history of America when those of us who do not fit in the White and Black dichotomy, were trying to make sense of our place in the conversations happening around the country. "Becoming American" emerged as I processed my own thoughts regarding all of the above.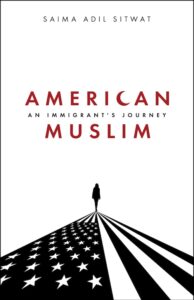 I speak at several platforms, which include organizations and book clubs about my memoir American Muslim: An Immigrant's Journey. During my book tour many women, especially those who were born in other countries and shared with me that my memoir planted seeds in their heart to detail their experiences as well. "Becoming American" was my way of providing a platform for women to share their stories with all their diversity and richness. But, I wanted it to be an authentic experience for the audience as well- stories in the words of storytellers. That is where the idea of a video message came from, along with the text that encapsulated the complete story. In the video message, each of the interviewees share a short message for the audience. It is wonderful to see the range of this messaging and how each of the participating women have brought their stories home through these short video clips.
I would also like to give a shout out to Maryland State Arts Council who trusted in my vision by providing funding for the project and my partners CityLit Project, Institute for Islamic Christian and Jewish Studies (ICJS Baltimore) and Welcoming America who have helped with increasing reach and visibility of vignettes.
AD: What was an unexpected outcome or moment in the process and/or content of this project that changed how you thought about it?
SAS: There were unexpected moments each time I interviewed one of the featured women. When I envisioned the project, I planned to ask each of my interviewees the same set of questions. But as I started interviewing, I realized that every story was unique, and I would have to quickly abandon my line of questioning and go with the flow of conversation. By the time I interviewed the fifth participant, I would not go into the interview with any preconceived questions. All I needed was an open mind, a cup of coffee and small prompts and nudges that kept the energy going.
Another possibility that had not occurred to me before I started selecting the participants was the fact that some women might not be comfortable speaking English. One of the women, Emilienne, who was from Burkina Faso, requested an interview in French, which is not a language that I speak. However, another project participant, Selina Doroshenko, agreed to facilitate our conversation. Selina was visiting her family in Montreal, Canada when I interviewed Emilienne and Selina connected with us online, to provide translation. I was totally fascinated by this camaraderie among women who did not personally know each other, but came together to make the "Becoming American" project successful.
AD: If you were to continue this project, where would you like to take it? Do you have any dream interviewees? Would you do anything differently?
SAS: I would love to extend the project beyond Maryland, and cover stories of immigrant women from across America. I would also like to document intergenerational stories, which share the experiences of not only the women who migrated to the United States from another country, but also look how their families have evolved in their American story through the lives of daughters and granddaughters.
I love covering what I call "people in the neighborhood", usual folks with unusual stories. If I have one desire, it is for my writing to serve as a connector of people. I hope that the stories I write help folks discover common threads in their lives, so together we can build a singular American narrative. My dream interviewees, therefore, do not have a title or position but are the ones who tell their stories boldly and bravely.
Each of the women featured in "Becoming America" has been such a pleasure to talk to. I am happy with the digital nature of the project, but if I have the opportunity (and funding!) I would love to see these stories in print. Though most of my work over the last few years, except for my memoir, has been digital, there is nothing like the smell of a book.
AD: What projects can we expect from you in the future?
SAS: I have many creative projects brewing , but my next project is going to be an extension of "Becoming American" with spotlight on American women from East Asia. I am also in the process of doing preliminary research and laying foundation for my debut work of fiction.
---
'Becoming American' continues through November. All posts will be available to read in our NEWS section.