CityLit Project is EXTENDING our deadline to apply for a position on our board! Apply by Sunday, October 1.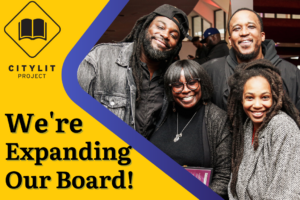 We are looking to expand its team of community and business members invested in the culture & possibility of literature. Are you interested in becoming involved on the Board?
What are some ways you can be involved as a Board member?
Be part of a

working

board committee, i.e. hands on involvement in the planning, production, and development of our literary events.

Assist with soliciting corporate and potential partnerships.

Raise donations and fundraising through connecting us with corporate partnerships, tapping your network of those invested in growing the local literary community, or even writing an annual personal check or two to help build our capacity and resources.

Offer your wisdom or expertise within the literary community by tapping authors, speakers, and event vendors with the intention for our future growth.
Still interested?  CLICK HERE to fill out the form to join our team nurturing literature today!
Applcations will be accepted until Sunday, October 1 at 11:59 PM ET.
---
Unable to volunteer for a Board position at this time? CityLit Project is looking to expand its team of community members invested in the culture & possibility of literature.
Here are some additional ways you can support:
Give! $25, $50, $100 dollars – any bit counts. We have programming coming this fall that your contributions bring to life and provide FREE literary resources for the storytellers around us. Click the DONATE now.
Volunteer with us at any of our events and get a taste for how we work, and perhaps you'll join us in the future 😉
Share this post with others who you think would be a wonderful fit!