Tuesday, March 12, 2022, @ 2:00 pm – 4:00 pm EST
The 1619 Project with creator Nikole Hannah-Jones in conversation with Martha S. Jones
LIVE & VIRTUAL @ THE CENTRAL PRATT LIBRARY
Registration is required to attend the LIVE KEYNOTE – THE 1619 PROJECT event at Pratt Central Library on Cathedral Street, and can be found by clicking the link below:
**On Saturday, March 12, this Keynote event is the only event you have to register for if you plan to attend in person. The event will be held LIVE at Enoch Pratt Free Library Central Branch on Cathedral Street in the third floor Wheeler Auditorium. Seating is limited. Show-ups are welcome. For those with tickets, please arrive promptly by 1:30 pm or seats will be given away. If you do not have a ticket, the remaining open seats will be available on a first-come, first basis.
Please Note: Move your cursor over the bold print below and click, to access the Virtual link.
The LIVE Panel and Audience Q & A session will also be broadcast on the Enoch Pratt Free Library Facebook page and YouTube page. It can be watched after the broadcast on the library's Facebook Live. Click here for the Live video library.
Please note: If you cannot obtain a seat, you may watch the live stream of the event on your own device. The Pratt Library offers free wifi. We truly appreciate your grace and your patience as we navigate both a live and virtual experience for all.
For any of Saturday's events, daily garages and metered on-street parking are located close to the library, but we encourage carpooling & reserving a spot ahead of time by using SpotHero or a similar reservation service. The MTA Trip Planner is helpful for determining your best route if you are using public transportation. Parking can also be found at the Franklin Street Garage. You can find more parking options by Clicking Here.
---
This year's 19th CityLit Festival highlights creator and Pulitzer Prize-winning, investigative journalist Nikole Hannah-Jones of The 1619 Project: The New Origin Story and Born On The Water, introduced in 2019 commemorating the 400th anniversary of the beginning of slavery in a major multimedia initiative in The New York Times Magazine. Hannah-Jones brings this national, invigorating conversation about the contributions of Black Americans and how the legacy of slavery informs our lives, to Baltimore with author, historian and contributor Martha S. Jones. This partnership event is designed to engage and bring educators, community, leaders, students and creatives into a mission of discovery, embarking on conversations beyond the Festival.
The live and virtual, fully reimagined signature event is a celebration for readers and writers and extends its partnership with Enoch Pratt Free Library, Maryland Centers for Creative Classrooms, Maryland Humanities, Arts Education in Maryland Schools, Motor House, Greater Baltimore Cultural Alliance, Busboys and Poets -Baltimore, and BmoreArt in an ongoing design to elevate the literary arts in this region. How We Break Free: Confronting Hard Truths is the underlying theme of the month-long event that boasts three live gatherings, March 12th, when Hannah-Jones appears..
The Ivy Bookshop is the Festival bookseller.
---
Featuring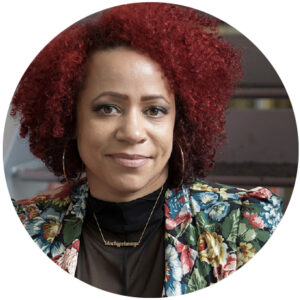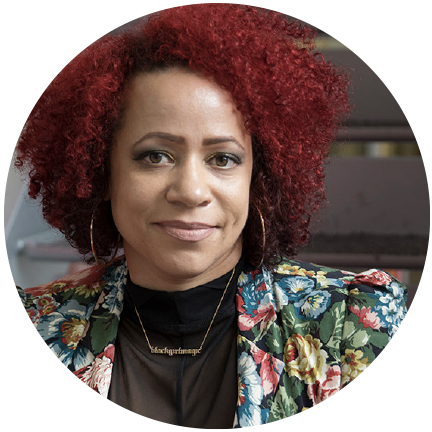 Nikole Hannah-Jones is the Pulitzer Prize-winning creator of The 1619 Project and a staff writer at The New York Times Magazine. She has spent her career investigating racial inequality and injustice, and her reporting has earned her the MacArthur Fellowship, known as the Genius grant, a Peabody Award, two George Polk Awards and the National Magazine Award three times. Hannah-Jones also earned the John Chancellor Award for Distinguished Journalism and was named Journalist of the Year by the National Association of Black Journalists and the Newswomen's Club of New York. In 2020 she was inducted into the Society of American Historians and in 2021, into the North Carolina Media Hall of Fame. Nikole was named as one of the Most Influential People in the in 2021 by Time Magazine. In 2016, Hannah-Jones co-founded the Ida B. Wells Society for Investigative Reporting, which seeks to increase the number of reporters and editors of color. She holds a Master of Arts in Mass Communication from the University of North Carolina and earned her Bachelor of Arts in History and African-American studies from the University of Notre Dame. Hannah-Jones is the Knight Chair in Race and Journalism at Howard University, where she has founded the Center for Journalism & Democracy.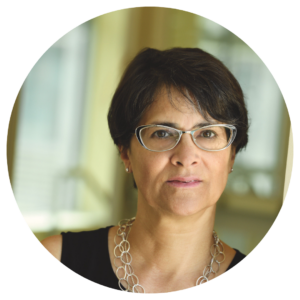 Martha S. Jones is prize-winning author and the Society of Black Alumni Presidential Professor at Johns Hopkins University. Her most recent book is Vanguard: How Black Women Broke Barriers, Won the Vote and Insisted on Equalty for All, selected as one of Time's 100 must-read books for 2020. Professor Martha S. Jones is the Society of Black Alumni Presidential Professor, Professor of History, and a Professor at the SNF Agora Institute at The Johns Hopkins University. She is a legal and cultural historian whose work examines how black Americans have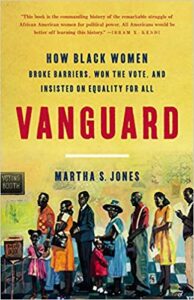 shaped the story of American democracy. Her book, Birthright Citizens: A History of Race and Rights in Antebellum America, was winner of the Organization of American Historians Liberty Legacy Award (best book in civil rights history), and the Baltimore City Historical Society Scholars honor for 2020. Professor Jones is also author of All Bound Up Together: The Woman Question in African American Public Culture 1830-1900, and a coeditor of Toward an Intellectual History of Black Women
http://marthasjones.com
Twitter: @marthasjones_
Instagram: @marthasjones
---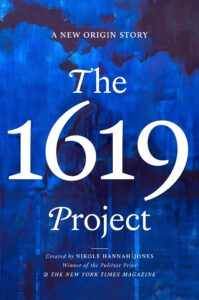 ABOUT THE 1619 PROJECT
"The 1619 Project is The New York Times Magazine's award-winning reframing of American history that placed slavery and its continuing legacy at the center of our national narrative. The project, which was initially launched in August of 2019, offered a revealing new origin story for the United States, one that helped explain not only the persistence of anti-Black racism and inequality in American life today, but also the roots of so much of what makes the country unique." ~1619 Books
https://1619books.com/#resources
To learn more about The 1619 Project, check out Wendy Ruth Walker from Little Patuxent Review's article by Clicking Here.
You can find more resources below!
Wendy Ruth Walker is a writer and editor from Maryland. Her work just appeared in Cordella Magazine's Field Notes. A previous story, "Cabinet of Animals", received an honorable mention in Glimmer Train's fall 2017 fiction contest. For over ten years Walker was an acquisitions editor at Atria Books, part of Simon & Schuster in New York. She has been a contributing writer to Stop Smiling Magazine, The Jewish Book Council, and is presently the Online Editor for The Little Patuxent Review. She is a recent graduate of the Bennington Writing Seminars.
PBS – Newshour
The 1619 Project details the legacy of slavery in America | PBS
Inside the Book: Nikole Hannah-Jones (THE 1619 PROJECT)
Contributors of The 1619 Project:
Leslie Alexander • Michelle Alexander • Carol Anderson • Joshua Bennett • Reginald Dwayne Betts • Jamelle Bouie • Anthea Butler • Matthew Desmond • Rita Dove • Camille T. Dungy • Cornelius Eady • Eve L. Ewing • Nikky Finney • Vievee Francis • Yaa Gyasi • Forrest Hamer • Terrance Hayes • Kimberly Annece Henderson • Jeneen Interlandi • Honorée Fanonne Jeffers • Barry Jenkins • Tyehimba Jess • Martha S. Jones • Robert Jones, Jr. • A. Van Jordan • Ibram X. Kendi • Eddie Kendricks • Yusef Komunyakaa • Kevin M. Kruse • Kiese Laymon • Trymaine Lee • Jasmine Mans • Terry McMillan • Tiya Miles • Wesley Morris • Khalil Gibran Muhammad • Lynn Nottage • ZZ Packer • Gregory Pardlo • Darryl Pinckney • Claudia Rankine • Jason Reynolds • Dorothy Roberts • Sonia Sanchez • Tim Seibles • Evie Shockley • Clint Smith • Danez Smith • Patricia Smith • Tracy K. Smith • Bryan Stevenson • Nafissa Thompson-Spires • Natasha Trethewey • Linda Villarosa • Jesmyn Ward.
---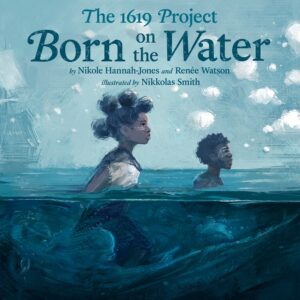 ABOUT BORN ON THE WATER:
by Nikole Hannah-Jones and Renée Watson, illustrated by Nikkolas Smith
The 1619 Project's lyrical picture book in verse chronicles the consequences of slavery and the history of Black resistance in the United States, thoughtfully rendered by Pulitzer Prize-winning journalist Nikole Hannah-Jones and Newbery honor-winning author Renée Watson.~1619 Books
https://storage.googleapis.com/classroom-portal-production/uploads/2021/11/512a7c15-bornonthewater_edguide.pdf?fbclid=IwAR1ci6V0oZRBXbOmbXhT9Te9j1l7PNPo0MbJTNRSvIWLt6GTCv0_qcxLx0Q
https://1619books.com/#about-the-1619-project
K–12 Curriculum Guide for Born on the Water and A New Origin Story: For superintendents, administrators, curriculum development specialists, and classroom teachers.
Teacher's Guide for The 1619 Project: Born on the Water: For classroom implementation by the teacher for grades K–8.
Teacher's Guide for The 1619 Project: A New Origin Story: For classroom implementation by the teacher for grades 9–12.
Find more resources at 1619education.org, the Pulitzer Center's new 1619 Project education portal, featuring further curriculum materials and testimonials from educators across the country who are using the books in their classrooms.
Find more resources at 1619education.org, the Pulitzer Center's new 1619 Project education portal, featuring further curriculum materials and testimonials from educators across the country who are using the books in their classrooms.
A #1 New York Times Bestseller
A 2022 ALSC Notable Children's Book
"A gift to Black Americans and everyone else who reads it." ―Kirkus Reviews, starred review
"Black history is not merely a story of slavery and suffering but one of perseverance and hope." ―Publisher's Weekly, starred review
"A stunning work, providing a glimpse into the history of the Black experience before and after the slave trade; the poetic language and breathtaking artwork will have a lasting effect on readers." ―School Library Journal, starred review
---
OUR 2022 NEW FESTIVAL PARTNERS:
CityLit has relied heavily on partnerships that elevate literature so we might increase our understanding of others. This year these new partnerships allowed us to engage in a more meaningful practice, placing books and difficult conversations at the center while living through times of uncertainty married with hope. A HUGE THANK YOU to an ever-growing community of litlovers. We couldn't do CityLit without them. The biggest thanks would be if you – attendee – explored their websites and their missions, followed them and supported them in their endeavors to shed light on our humanity.
Maryland Centers for Creative Classrooms envision arts education experiences that uplift individuals and communities to share their stories and beliefs and an arts education landscape that fosters generous sharing between students, educators, artists, communities, and organizations.
mc3arts.org
Twitter: @msdefinearts
Instagram: @msdefinearts
Facebook: @msdefinearts
Maryland Humanities, (MH) home of the Maryland Center for the Book, creates and supports bold experiences through free educational programming. Our programs use the humanities—history, literature, philosophy, ethics, the arts—to foster understanding among people with diverse perspectives and encourage an open-minded exchange of ideas to strengthen our ability to interact meaningfully.
www.mdhumanities.org
Twitter: @MDHumanities
Instagram: @MDHumanities
Facebook: /MDHumanities
/MdCtrfortheBook
Arts Education in Maryland Schools is a statewide non-profit based in Baltimore City. AEMS envisions a public education system in Maryland that supports, cultivates, nurtures, and uplifts ALL students' creativity through a robust arts education experience so that they can thrive in a healthy society. AEMS is committed to ensuring that all students in the state of Maryland have access to high-quality arts education by mobilizing power to communities through advocacy programs, professional and leadership programs, and resource building and sharing.
https://aems-edu.org
Twitter: @artsedmaryland
Instagram: @artsedmaryland
Facebook: @artsedmaryland
YouTube: theaemsalliance
LinkedIn: https://www.linkedin.com/company/artseducationinmarylandschoolsalliance
Greater Baltimore Cultural Alliance is a leading nonprofit provider of services to artists and cultural organizations in the region. Whether they are emerging or established, mainstream or underground, grassroots or institutional, GBCA believes in unifying and strengthening all members of the creative community. We do this through marketing, education, financial support, and developing innovative programs that increase equity in the cultural community and beyond. GBCA's mission is to create equity and opportunity In, Through, and For arts and humanities.
www.Baltimoreculture.org
Instagram: @BaltimoreCulture
Twitter: @BMoreCulture
Facebook: @GreaterBaltimoreCulturalAlliance
Motor House is a creative crossroads rooted in the culture of Baltimore. We are a non-profit arts hub, gallery, and performance space that encourages new visions, bold experiments, and emerging voices to celebrate the artistry of our city.
https://www.motorhousebaltimore.com/
Instagram: @motorhousebaltimore
Facebook: Motor House Baltimore
Busboys and Poets is a community where racial and cultural connections are consciously uplifted… a place to take a deliberate pause and feed your mind, body and soul… a space for art, culture and politics to intentionally collide… we believe that by creating such a space we can inspire social change and begin to transform our community and the world.
busboysandpoets.com
Twitter: @busboysandpoets
Instagram: @busboysandpoets
Facebook: @busboysandpoets
YouTube: @busboysandpoets
BmoreArt is the leading resource for contemporary art and culture in the Baltimore region, a platform for creative and critical discussions. We apply editorial and community building capabilities including digital publication, a biannual print journal founded in 2015, community events, lectures, and social media, to further the cultural and economic interests of artists, arts organizations, cultural institutions, and diverse audiences for arts and culture in the region.
https://bmoreart.com
Twitter: https://twitter.com/bmoreart1
Instagram: https://www.instagram.com/bmoreart/
Facebook: https://www.facebook.com/BaltimoreContemporaryArt
Joyful Signing provides communication access solutions to clients nationwide. Our services include American Sign Language (ASL), Trilingual interpretation, CUED Speech, Tactile and Oral interpreting, and Captioning services for the d/Deaf and hard of hearing community and Reading Services for the Blind. Joyful Signing has been in business since 2009 and we work with hundreds of freelance interpreters. Our success is directly attributed to our focus on servicing the Deaf and hard of hearing communities by providing quality customer service and taking care of our service providers. (March 1, 8, 15, 29, & April 1)
http://www.joyfulsigning.com/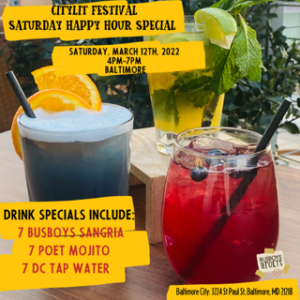 Stop by Busboys and Poets after our Saturday events for a Happy Hour Special from 4-8pm!
They are located at 3224 St. Paul St, Baltimore, MD 21218.