Writers LIVE! Morgan Jerkins in conversation with Teri Henderson
May 7, 2021 @ 7:00 pm

-

8:00 pm

Free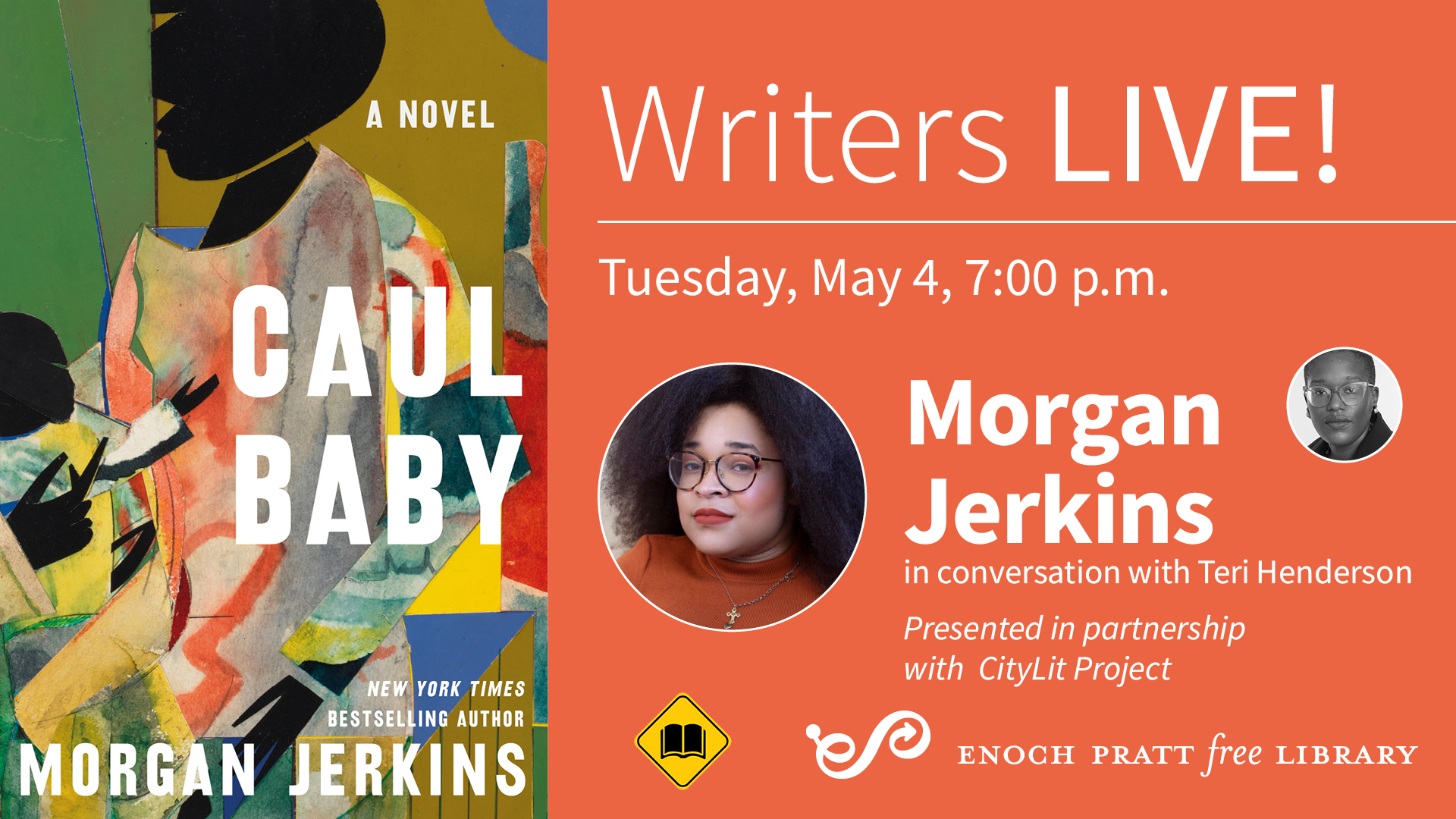 Registration not required, but encouraged. Click here to register through Eventbrite.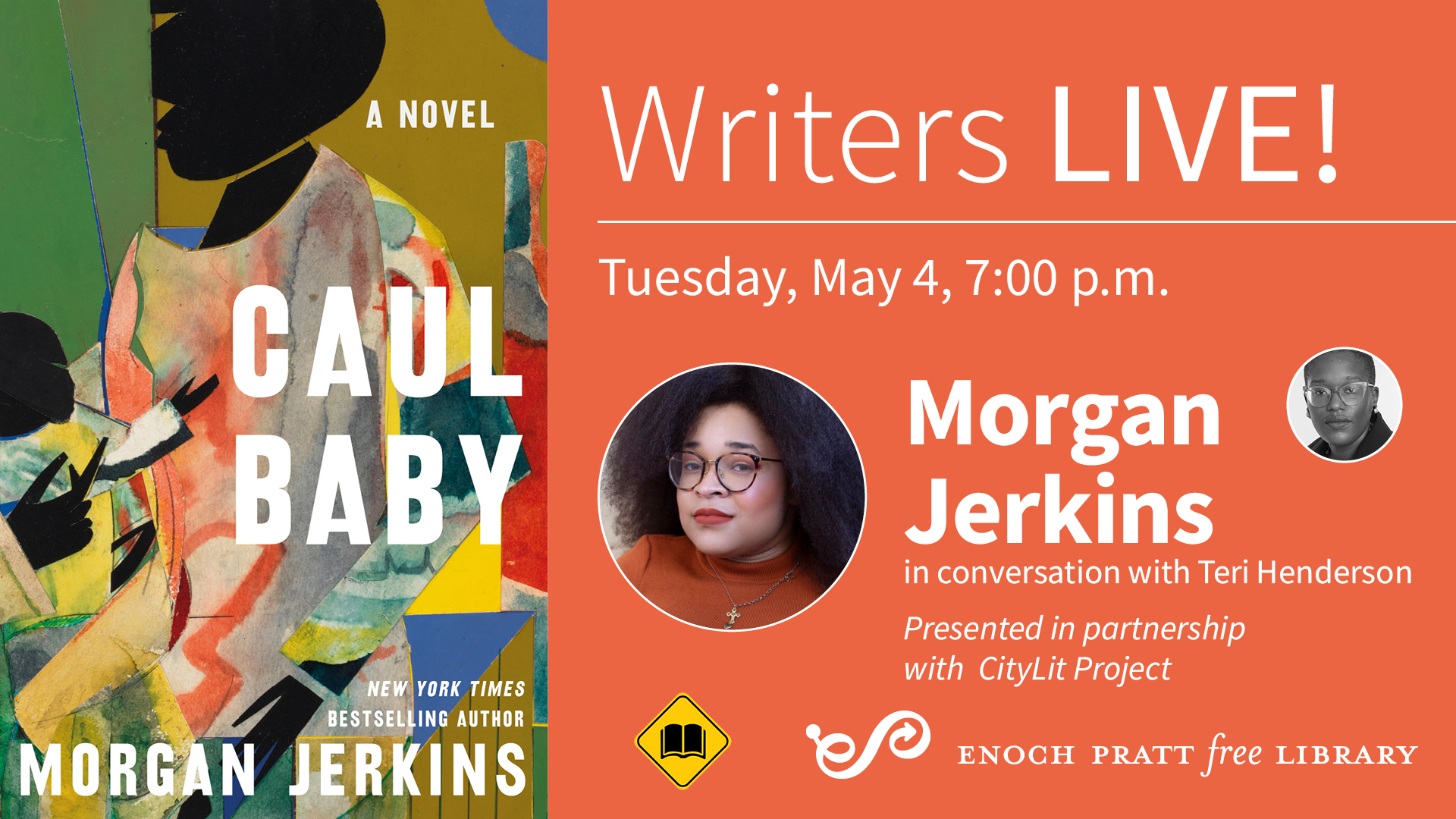 Morgan Jerkins will be in conversation with Teri Henderson about her work. In this talk, Jerkins discusses her literary journey, culminating in the release of her newest work, Caul Baby.
Following the critical and popular success of her first two books of nonfiction, New York Times bestselling author Morgan Jerkins returns with her electrifying fiction debut, Caul Baby, a family saga filled with secrets, betrayal, intrigue, and magic.
Desperate to be a mother after multiple pregnancies have ended in heartbreak, Laila turns to the  Melancons, an old and powerful Harlem family known for their caul, a precious layer of skin that is the secret source of their healing power. When the deal for Laila to acquire a piece of caul to protect her baby falls through and her child is stillborn, she is overcome with grief and rage and blames the family for the loss.
What she doesn't know is that she has another connection to the Melancons: her niece, Amara, an ambitious college student, soon secretly delivers a baby girl she names Hallow and gives her to the Melancons to raise as one of their own.
Hallow is special, born with a caul, and the Melancons' matriarch believes she will restore the family's waning prosperity. As a child, Hallow is sheltered in the Melancons' decrepit brownstone, but as she grows up, she starts to become suspicious of the Melancon women, particularly wondering about Josephine, the woman she calls mother, and the matriarch, Maman, who only seems to care about Hallow's caul.
As the Melancons' desperation to maintain their status grows, Amara, now a successful lawyer running for district attorney, looks for a way to avenge her longstanding grudge against the family for their crime against her beloved Aunt Laila.
When mother and daughter finally cross paths, Hallow must decide where her loyalty lies.
______________
MORGAN JERKINS is the author of Wandering in Strange Lands and the New York Times bestseller This Will Be My Undoing and a Senior Culture Editor at ESPN's The Undefeated. Jerkins is a visiting professor at Columbia University and a Forbes 30 Under 30 leader in media, and her short-form work has been featured in the New Yorker, the New York Times, the Atlantic, Rolling Stone, Elle, Esquire, and The Guardian, among many other outlets. She is based in Harlem.
TERI HENDERSON is a curator, co-director of WDLY, and writer. She held a curatorial internship at Ghost Gallery in Seattle, Washington, where she also helped launch the social media campaign for the non-profit access to justice platform PopUpJustice! She has previously served as the Art Law Clinic Director for Maryland Volunteer Lawyers For The Arts and has published in the St. James Encyclopedia of Hip Hop Culture. As co-director of WDLY her work addresses shrinking the gap between the spaces that contemporary artists of color inhabit and the resources of the power structures of the art world through the curation and artistic production of events. Henderson recently founded the Black Collagists Arts Incubator. She is a staff writer for BmoreArt as well as the Connect+Collect gallery coordinator.
Order your copy of Caul Baby from the Ivy Bookshop.
ASL interpretation will be available for attendees.
Writers LIVE programs are supported in part by a bequest from The Miss Howard Hubbard Adult Programming Fund.
______________
Dial-In Information
Please click the link below to join the webinar:
https://marylandlibraries.zoom.us/j/98937773688?pwd=c2VabmRiZzJIZ2VRTGNPazVtYXdBQT09
Passcode: 833954
OR
Telephone
Dial (for higher quality, dial a number based on your current location):
US: +1 301 715 8592  or +1 267 831 0333  or +1 312 626 6799  or +1 470 250 9358  or +1 470 381 2552  or +1 646 518 9805  or +1 646 558 8656  or +1 651 372 8299  or +1 786 635 1003  or +1 213 338 8477  or +1 253 215 8782  or +1 346 248 7799  or +1 602 753 0140  or +1 669 219 2599  or +1 669 900 9128 or +1 720 928 9299  or +1 971 247 1195
Webinar ID: 989 3777 3688
Passcode: 833954
International numbers available: https://marylandlibraries.zoom.us/u/aivaExLNJ
The conversation will also be broadcasted on the Enoch Pratt Free Library Facebook page. It can be watched afterwards on Facebook Live.